Before you order please read the following: I only have examples up of dogs, but I can draw any animal; horses, cats, fish, birds, hamsters, lizards or any other creature that could be considered a pet! If you would like me to do a portrait of your pet find a picture (or two) that you think best shows your pets features. Then decide what background you would like for the portrait and e-mail me with the details. I can't tell you exactly how long the picture will take because every portrait is different, but I can e-mail you with updates on how the portrait is coming. I have a scanner so I can scan what I have done and e-mail it to you. Prices vary, I charge by the hour so if you are interested e-mail me and we can work out a rate. Remember, if I have a lot of orders your portrait may be put on hold until I have more free time, I prioritize on a first come first served basis. Everything is shipped between two pieces of cardboard. Shipping costs are extra and I will e-mail you with the total. You can choose from two methods of shipping, the first is Express which can take 2-9 days to arrive in Canada and 6-9 days to arrive in the US, the cost is $4.75 for shipping to places in Canada, $8.70 for shipping to places in the US, and $15.60 for shipping internationally. The second method is Next Day the cost for this is $11.40 for shipping to places in Canada, $27.50 for shipping to places in the US, and finally $42.50 for international shipping. I recommend Express post because it only takes a couple of days (usually), it doesn't cost a whole lot and you can track your package to see where it is. If you decide to order something you can contact me through e-mail at the bottom of the page (angeleyes758@lycos.com), make sure that you include the identification number located above each picture and your mailing address. If you have any further questions please don't hesitate to ask. *If a picture shows up as a red X just hit your refresh button on your tool bar. This problem is more common with dial up internet access.* All prices including shipping costs are in Canadian Dollars and ALL pictures are copyrighted.
---
"Cooey The Beagle"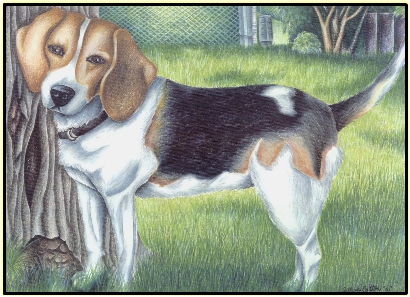 This piece is done in pencil crayon. 30.1 x 22.6cm
---
"Freeway The Elkhound"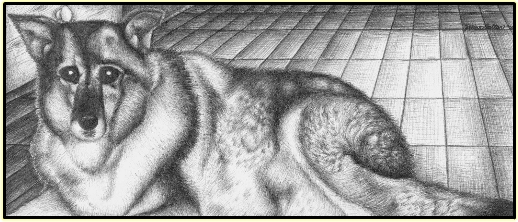 This piece is done in pen and ink. 28 x 12.6cm
---
br>

br>
---
br>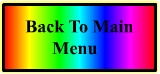 br>